Behold, there was a great multitude... a mass of people, excited and in awe as they were running like a roaring sea towards what appeared to be a large stage off in the distance. I was standing among the the rush in wonder trying to ask the people WHAT was going on. Finally I spotted a very dear loved one and I asked her, "What is going on?" and she answered with much excitement "HE is about to speak!!"
Because I was facing the direction in which the masses were running from, my eyes could see behind them... and there I saw a great red tornado. No one seemed to have a clue what was looming behind them and I was filled with a terror and wonder. Why was everyone oblivious??? What was this massive red tornado? Its span was enormous covering miles and yet everyone seemed distracted by WHOEVER was about to "speak" down towards a valley.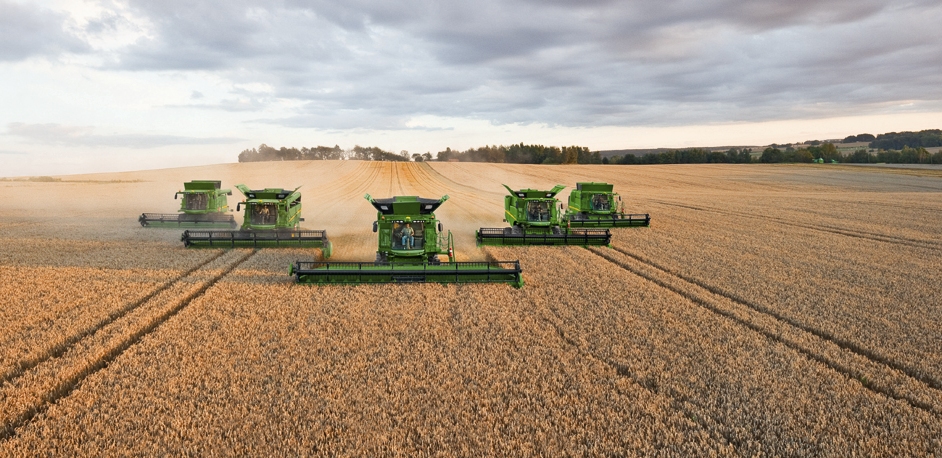 Suddenly I was propelling towards the red tornado from above (as only one can do in a dream... so cool) and behold, I looked down to the ground and saw what I thought were five ravenous combines devouring the earth. Their chaff flying out behind was red as blood and the wind caused by these massive combines was causing the red chaff to twist, twirl and swirl upwards giving the appearance of a red tornado.
Each combine appeared to have its own designated colour, which I am no longer remembering, but they advanced ferociously in a V-formation... one side being shorter than the other.
In the distance, I saw Duane, on a land appearing to be his but not his... rocky, treed and water running through it... a land for livestock. I tried yelling to him in warning but he seemed unafraid although unaware, and did not hear.
I had this dream a few years ago before I started truly delving into scripture. When I had awoken from this dream, I told it to Duane and asked him if the world now had only five major grain companies controlling the food industry. He didn't know but a little research lead us to a book called "Merchants of Grain: The Power and Profits of the Five Giant Companies at the Center of the World's Food Supply" by Dan Morgan.
Well, could that be it?
Still, something felt unsettled about the dream and it seemed more than just a question of what I had eaten the night before!
A year later, while delving more diligently into scripture and our Torah Portions, we read about the mass Exodus from Egypt... the first Passover story... the very framework of our salvation God would provide thousands of years later... and the framework of end time prophecy. But I digress...
As we were reading aloud together (as we take turns reading the portions each Sabbath), we read about God being among the Israelites as a pillar of smoke by day... and... get this... a pillar of FIRE by night! A pillar of fire?! Wouldn't that have the appearance of a red tornado?! I gasped, my jaw dropped, and I looked at Duane. This was a huge motivator to seek beyond a literal harvest and grain companies!
Further readings about end time prophecies seemed to speak of putting in the "sickle" to collect the harvest... and that the wicked (disobedient, unfaithful) will be like "chaff."
Gulp!
I have wanted to write down the dream BEFORE doing a word search on "chaff" specifically in my bible software... otherwise the brain seems to want to bend details to match what is read. So for integrity's sake, just now, here are the pertinent verses I have found:
Blessed is the man who walks not in the counsel of the wicked, nor stands in the way of sinners, nor sits in the seat of scoffers; but his delight is in the law of the Lord, and on his law he meditates day and night. He is like a tree planted by streams of water that yields its fruit in its season, and its leaf does not wither. In all that he does, he prospers. The wicked are not so, but are like chaff that the wind drives away. Therefore the wicked will not stand in the judgment, nor sinners in the congregation of the righteous; for the Lord knows the way of the righteous, but the way of the wicked will perish. (Psalms 1:1-6)
O my God, make them like whirling dust, like chaff before the wind. As fire consumes the forest, as the flame sets the mountains ablaze, so may you pursue them with your tempest and terrify them with your hurricane! Fill their faces with shame, that they may seek your name, O Lord. Let them be put to shame and dismayed forever; let them perish in disgrace, that they may know that you alone, whose name is the Lord, are the Most High over all the earth. (Psalms 83:13-18)
Ah, the thunder of many peoples; they thunder like the thundering of the sea! Ah, the roar of nations; they roar like the roaring of mighty waters! The nations roar like the roaring of many waters, but he will rebuke them, and they will flee far away, chased like chaff on the mountains before the wind and whirling dust before the storm. At evening time, behold, terror! Before morning, they are no more. (Isaiah 17:12-14)
But the multitude of your foreign foes shall be like small dust, and the multitude of the ruthless like passing chaff. And in an instant, suddenly, you will be visited by the Lord of hosts with thunder and with earthquake and great noise, with whirlwind and tempest, and the flame of a devouring fire. (Isaiah 29:5-6)
Gather together, yes, gather, O shameless nation, before the decree takes effect—before the day passes away like chaff— before there comes upon you the burning anger of the Lord, before there comes upon you the day of the anger of the Lord. Seek the Lord, all you humble of the land, who do his just commands; seek righteousness; seek humility; perhaps you may be hidden on the day of the anger of the Lord. For Gaza shall be deserted, and Ashkelon shall become a desolation; Ashdod's people shall be driven out at noon, and Ekron shall be uprooted. (Zephaniah 2:1-4)
The harvest is the end of the age, and the reapers are angels. Just as the weeds are gathered and burned with fire, so will it be at the end of the age. The Son of Man will send his angels, and they will gather out of his kingdom all causes of sin and all law- breakers, and throw them into the fiery furnace. In that place there will be weeping and gnashing of teeth. Then the righteous will shine like the sun in the kingdom of their Father. (Matthew 13:39-43)
My dear ones, I would love to write to you about happy, fluffy feelings... of masses holding hands and singing Kumbaya... but I fear that this is a time and age more than ever where we are to reject teachings and doctrines that "tickle" our ears and cling to the healing wounds of a double-edged sword, called Truth, which is the Word of God. There is a sense of urgency on my heart, whether right or wrong, that makes me grateful God has prepared me to be untouched by ridicule... for this is not an easy task... but there is a call to repentance at hand.
I think everyone knows it. Everyone can feel something impending. There is a storm brewing in the distance and I love God's creation too much to care more about whether or not I sound crazy than to reach out in love and hope that a genuine inclining of the ear will begin... a stirring in the heart will cause a seeking... a crying out of our souls will begin... and it will be heard from on high.
So if you are willing to hear, willing to endure the refinement of godly chastisement through His everlasting Word, to resist the temptation to turn away and give in to what tickles the ears, then please persevere with me as I let go of my desire to blog only about family moments and embrace my greater love, which is to magnify His Holy Name. I promise you, if you choose to endure, the greatest treasure awaits you! I can promise this, because God promises this. And I pray that this non-posteducated stay-at-home mother of six can be a vessel made ready by the Potter's hands.
The unfolding of your words gives light; it imparts understanding to the simple. (Psalms 119:130)
I love those who love me, and those who seek me diligently find me. (Proverbs 8:17)
The law of the Lord is perfect, reviving the soul; the testimony of the Lord is sure, making wise the simple. (Psalms 19:7)
"... if you receive my words and treasure up my commandments with you, making your ear attentive to wisdom and inclining your heart to understanding; yes, if you call out for insight and raise your voice for understanding, if you seek it like silver and search for it as for hidden treasures, then you will understand the fear of the Lord and find the knowledge of God. For the Lord gives wisdom; from his mouth come knowledge and understanding; he stores up sound wisdom for the upright; he is a shield to those who walk in integrity, guarding the paths of justice and watching over the way of his saints. Then you will understand righteousness and justice and equity, every good path; for wisdom will come into your heart, and knowledge will be pleasant to your soul." (Proverbs 2:1-10)
If any of you lacks wisdom, let him ask God, who gives generously to all without reproach, and it will be given him. But let him ask in faith, with no doubting... (James 1:5-6)
I pray I can be a living testimony to the fulfillment of these promises... or better yet, that YOU will be! I love you all very much.